Alumni of Distinction - 2016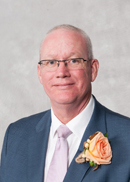 Bob Bell
Bob Bell
Bob Bell is a 1980 graduate of the Business Administration program. He recently retired from CIBC after a 36-year career that included a variety of senior leadership positions, including District Vice President for the Kitchener, Waterloo, Guelph and Cambridge district. During his tenure, Bob was recognized on three separate occasions with the organization's Annual Achiever Award presented to the top one per cent of employees, and led many CIBC teams to national recognition for their accomplishments.
A committed and involved member of the communities where he has lived and worked, Bob has coached minor sports and participated in community projects and campaigns through his service with local Kiwanis, Lions and Rotary Clubs. He has been an avid supporter of the United Way and is actively involved with the annual CIBC Run for the Cure event hosted at Conestoga's Doon campus. He serves on the Program Advisory Committee and is a long-term member of the college's Alumni Council.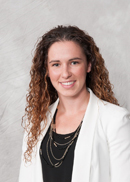 Mandy Bujold
Mandy Bujold
Mandy Bujold is a 2007 graduate of the General Business program and a trailblazer in women's boxing. A ten-time national champion, Mandy demonstrates commitment and dedication to achieving her goals and serves as an inspiration across the local community and beyond. She is the only female boxer in history to win two gold medals at the Pan American Games (in 2011 and 2015). She also attained the bronze medal at the 2014 Commonwealth Games in Glasgow.
In 2016, Mandy represented Team Canada at the 2016 Summer Olympic Games held in Rio. She is a highly sought after motivational speaker and gives back to the community through teaching recreational classes, mentoring aspiring young athletes and working with a number of local charities, including Ronald McDonald House Toronto, Fast and Female and True Sport. Recognized for her commitment to athletic excellence and leadership, Mandy was named K-W Civitan Athlete of the Year in May 2016.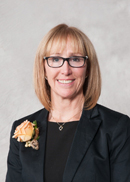 Anne Campbell
Anne Campbell
Anne Campbell is a 1977 graduate of the Nursing program, and is currently Vice President of Partnerships and Patient Experience at the Huron Perth Healthcare Alliance. Anne's 40-year career in health care has encompassed numerous roles related to patient care, education, project management and corporate planning. She published a resource on the Regulated Health Professions Act that was presented to regulated professionals across the province. She has led a number of transformational projects related to care delivery models, professional practice models and culture shifts for patient and family-centered care, as well as patient engagement and experience.
Anne has a passion for inspiring and motivating health professionals to design a preferred future where the voices of patients, families and staff engage for continuous improvement in health care delivery. In 2015, Anne introduced the Huron Perth Healthcare Alliance Patient and Family Experience Framework to create an infrastructure and strategy to implement this vision in a real-world context.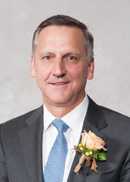 Kirk Dudtschak
Kirk Dudtschak
Kirk Dudtschak is a 1986 graduate of the Business program. Raised by immigrants on a small farm in southern Ontario, Kirk began his career with the Royal Bank of Canada the same year he completed his studies. Currently Executive Vice President of Personal and Commercial Banking at RBC, Kirk has served in a number of senior management and executive positions across the organization. From 2013 to 2015, he served as Head of Caribbean Banking, turning around RBC's business there to achieve growth and sustainable profitability.
In Canada, he has helped RBC win international recognition for outstanding performance. He is committed to community-building, and has worked tirelessly to position the Canadian banking industry as a champion of diversity. An active United Way volunteer, Kirk has served on a variety of campaign and fundraising cabinets, including the United Way of Greater Toronto Major Gifts Cabinet.
Kirk is a 2016 nominee for the Premier's Award for Business.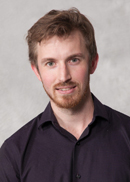 James Hobson
James Hobson
James Hobson, also known as the Hacksmith, is a 2012 graduate of the Bachelor of Engineering, Mechanical Systems Engineering program. A backyard engineer and YouTube sensation with more than a half-million subscribers and almost 30 million video views, James transforms fictional ideas into real working prototypes to inspire youth to explore science and technology. His videos showcase the design, building and testing of real-life superhero technology, including exoskeletons, various Batman gadgets and equipment from Marvel's Avengers.
He is currently attempting to fly like Iron Man. James' out-of-the-box thinking has attracted world-wide media attention, with stories and interviews appearing in Popular Science, Popular Mechanics, Business Insider, Daily Mail and IEEE, the world's largest technical professional organization. He has been featured on the Daily Planet, secured sponsorship partners and gained international fans who have been inspired to dream big and pursue tech-related education and careers.
James is a nominee for the 2016 Premier's Award for Recent Graduate.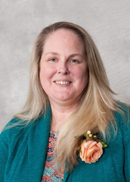 Julie Knowles
Julie Knowles
Julie Knowles is a 1997 graduate of the Graphic Design & Advertising program, and has been generating innovative ideas that turn into outstanding creative for almost 20 years. After completing her studies, she joined an advertising agency and quickly progressed from Junior Designer to Senior Art Director.
In 2003, Julie's entrepreneurial spirit and passion for design sent her in a direction that would allow her to work more closely with clients and mentor young designers. With business partner Jolene MacDonald, she founded Two Blonde Chicks, now known as The Blondes. The Kitchener-based firm delivers quality branding, graphic design and marketing strategies that get results for a broad range of businesses and organizations across Ontario.
Julie continues to support the development of young designers through co-op placements for students and the annual CreateAthon event at Conestoga. She also serves as a member of the Graphic Design Program Advisory Committee.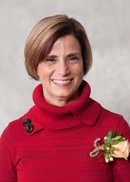 Johanne Léveillé-Schirm
Johanne Léveillé-Schirm
Johanne Léveillé-Schirm is a 1988 Nursing graduate who began her career as a labour and delivery nurse. Now a senior leader in health-care IT, Johanne currently serves as Vice President, Customer Services at Karos Health, implementing large clinical information systems that are improving the way frontline health-care providers deliver care.
Johanne's continued focus on serving the needs of patients and their families has resulted in year-over-year improvements in customer satisfaction and includes the development of best-in-class clinical IT deployment methodology and support as well as the implementation of training programs that teach health-care IT employees about clinical workflow. This approach reflects Johanne's principles as a nurse and has helped cultivate a new value system among a growing number of health-care IT companies that prioritize the end-user experience in their best practices.
Johanne has been recognized for professional excellence and leads by example to inspire others. She is a 2016 Premier's Award nominee for Health Sciences.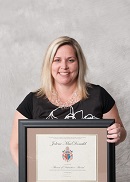 Jolene MacDonald
Jolene MacDonald
Jolene MacDonald is a 1999 graduate of the Graphic Design program. She began her design career at an agency and later served as Senior Graphic Designer with the City of Kitchener. Committed to making an impact within her profession and the local community, she founded the firm Two Blonde Chicks with business partner Julie Knowles in 2003. Now known as The Blondes, the firm has grown to include clients from industries and organizations across Ontario.
Jolene's focus on fair, honest customer service fosters strong relationships with clients and partners across the community. She is an active volunteer and advocate for accessibility, and provides pro-bono services to charitable organizations such as the Rare Disease Foundation of Canada.
She continues to contribute to the success of Conestoga's Graphic Design program through the implementation of the annual CreateAthon event and by providing co-op and job placements for students and graduates to help build her growing business.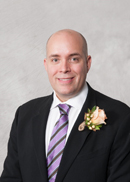 Darren Stewart
Darren Stewart
Darren Stewart is a 1996 graduate of the Business Administration – Materials Management program. He began working for Magna International's Karmax Heavy Stamping Division in Milton, Ontario soon after completing his studies. Over the last 20 years, Darren has held numerous Supply Chain and Operations Management roles within the organization, and currently serves in the role of Assistant General Manager, Operations.
In 2011, Darren and his team were recognized by APICS, the premier professional association for supply chain management, with the Corporate Award of Excellence for Innovation in Sustainable Productivity. He currently serves on the Program Advisory Committee for Conestoga's Supply Chain and Operations Management program and also contributes to the success of Conestoga students and graduates through co-op and job placements.
In 2015, his company, Karmax Heavy Stamping, was recognized among Conestoga's Employers of Distinction for their outstanding support of the college's students and programs.
Barry Zehr
Barry Zehr
Barry Zehr is a 1987 graduate of the Law and Security Administration program and has served with the Waterloo Regional Police for almost 30 years. Currently serving as Superintendent, Neighbourhood Policing Command, Barry has long been committed to inspiring people and leading programs that improve lives, break down barriers, and build stronger, safer communities.
From 2013 to 2015, he worked with the Ministry of Community Safety and Correctional Services to research, design and implement community safety plans for the province. He was instrumental in the development of new methods that are now used to identify and assist community members at risk and shape policy at the local level and across Ontario. Under his leadership, racial tensions have been transformed into relationships of trust and inclusiveness, and criminal complaints are in decline. Barry has twice been honoured by the International Association of Chiefs of Police and is a 2016 Premier's Award nominee for Community Services.