Projects and Publications
Key Publications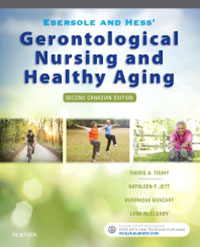 Gerontological Nursing and Healthy Aging, 2nd Canadian Edition
St. Louis: Mosby Elsevier
2011
Boscart, V.,
McCleary, L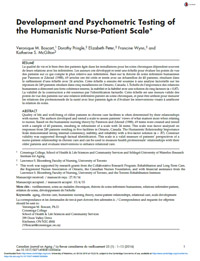 Development and psychometric testing of the Humanistic Nurse-Patient Scale
Canadian Journal on Aging, 35(1), 1-13
2016
Boscart, V.,
Pringle, D.,
Wynn, F.,
Peter, E.,
McGilton, K.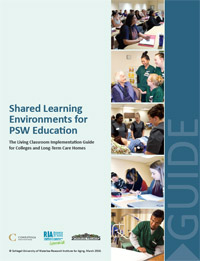 Shared Learning Environments for PSW Education: The Living Classroom Implementation Guide for Colleges and Long-Term Care Homes
2016
Garbutt, K.,
Boscart, V.,
d'Avernas, J.,
van der Horst, M.,
Raasok, M.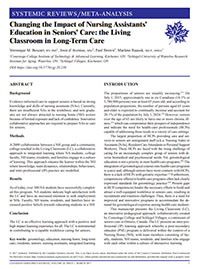 Changing the impact of nursing assistants' education in seniors' care: The living classroom in long-term care
Canadian Geriatrics Journal, 20(1), 1-7.
2017
Boscart, V.,
d'Avernas, .J,
Brown, P.,
Raasok, M.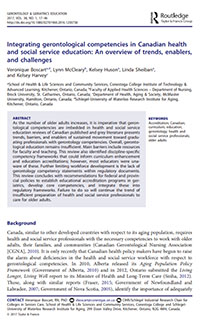 Integrating gerontological competencies in Canadian health and social service education: An overview of trends, enablers, and challenges.
Gerontology & Geriatrics Education, 38(1), 17-46.
2017
Boscart, V,
McCleary, L.,
Huson, K.,
Sheiban, L.,
Harvey, K.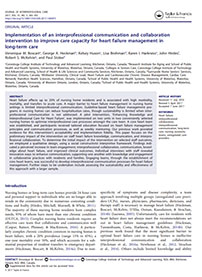 Implementation of an interprofessional communication and collaboration intervention to improve care capacity for heart failure management in long-term care
Journal of Interprofessional Care, 31(5), 583-592.
2017
Boscart, V.,
Heckman, G.,
Huson, K.,
Brohman, L.,
Harkness, K.,
Hirdes, J.,
McKelvie, R.,
Stolee, P.
Reports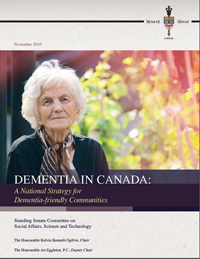 Dementia in Canada
Standing senate committee on Social affairs, Science and Technology
Ottawa, Ontario
2016
Boscart, V.
Funded Projects
Project Title
Investigators
Agency
Funding Period
Funding Location & Amount
The Neighbourhood Team Development program: Promoting resident centeredness in long-term care
V. Boscart (PI),
S. Sidani (Co-PI),
G. Heckman,
J. Ploeg,
S. Dupuis,
A. Costa,
J. d'Avernas
Canadian Institutes of Health Research (CIHR): Operating Grant
April 2014- March 2017
Conestoga College
$469,695
Implementing care processes to manage heart failure in long-term care: A feasibility study
G. Heckman (PI),
V. Boscart (PI),
P. Stolee,
R. McKelvie,
J. Hirdes
Heart and Stroke Foundation: Bridge Award
May 2014 -Apr 2015
University of Waterloo
$70,000
Enhancing care of seniors in long-term care: Impact of a Living Classroom on the education of personal support workers
V. Boscart (PI), L. McCleary, P. Stolee;
Ontario Ministry of Health and Long-Term Care (MOH & LTC): Nursing Research Fund
February 2013-February 2014
Conestoga College
$87,598
Strengthening personal support workers (PSWs) in home care
V. Boscart (PI),
J. Humphreys,
L Sheiban,
R. Wakefield,
J. Lagrotteria,
S. Brandt, etc
Ministry of Advanced Education and Skills Development, Employment and Training Division, Sector Partnership Planning Grant
Aug 2017-Nov 2017
Conestoga College
$49,980
BPSO Spotlight Organization
V. Boscart (PI),
L. Sheiban
Registered Nurses' Association of Ontario
2018 – 2021
Conestoga College