Part-time Courses - Motorcycle Rider Training
Related Courses
Contacts for Motorcycle Driver Training.
Things You Need To Know
Conestoga has been offering motorcycle driver training to new and experienced riders since 1976. For all of our riding programs, participants must come prepared with mandatory riding gear:
certified helmet
sturdy jacket and pants (leather, corduroy, or denim)
sturdy boots which cover the ankle
full fingered leather gloves (rain gear is optional)
Only you can make the choice to engage in Motorcycle Driver Training, your comfort and safety is your responsibility.
Participants must be a minimum of 16 years old. All participants will be required to sign a waiver form prior to starting their riding lessons. Participants under the age of 18 must have their waiver form signed by a parent or guardian.
Riding motorcycles is not for everyone and is a privilege to be enjoyed and respected. These courses provide an opportunity for participants to have their Motorcycle riding abilities assessed in a controlled, non-bias environment by trained motorcycle riding instructors. Only if you meet the MTO testing requirements will you be upgraded to an M2 motorcycle license.
*If you have questions or concerns about our course or our equipment please call 519-748-5220 ext. 3722. Mon-Fri, 8:00am to 4:00pm.
Motorcycle Video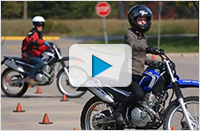 Course Schedule
View our course schedule (pdf)
Online Forms
Waiver of Liability
(pdf)
Acknowledgement Form
(pdf)
No results for that keyword. Try again with a different keyword or search our programs.
Contacts for Motorcycle Rider Training.