About Us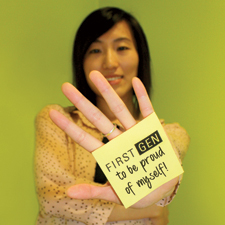 The First Generation Student Initiative began at Conestoga in July 2010
The initiative is funded by the Ministry of Advanced Education and Skills Development
Since our inception over 5000 unique self-identified First Gen Students have used services affiliated with the initiative
Over 100 students received the First Generation Bursary in 2016
Our Mission
To SUPPORT First Generation students in overcoming barriers and achieving their goals at Conestoga College
To INTEGRATE First Generation students into the college community and connect them with the services and opportunities that support their success at college
To SHARE the perspectives, challenges, and accomplishments of First Generation students with each other and our community
To PROVIDE meaningful opportunities for First Generation students to develop personally and professionally
Our Vision
Conestoga College will be known as a community that is welcoming and responsive to the unique experiences of First Generation students. The services and opportunities offered through this initiative will support the success of all First Generation students.
Our Values
Students: We respect, support, and celebrate the resilience, strengths, and accomplishments of First Generation students.
Partnership: We value collaboration with college services and all other stakeholders in the pursuit of student success.
Knowledge: We engage in research and evaluation to facilitate evidence-based decision-making and guide continuous improvement.
Community: We foster a sense of pride and belonging amongst First Generation students and within the college community.
Awareness: We encourage an understanding of First Generation students as a unique community with individualized needs.