Bachelor of Business Administration (Honours) - International Business Management
Credential:

Bachelor of Business Administration (Honours)

College Code:

CONS

School:

Program Code:

1172C
Accelerated Delivery:

No

Campus:

DO

Academic Year:

2019 / 2020
Program Reflections
Rebecca Vermette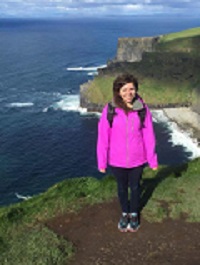 I chose Conestoga College because of the small class sizes and practical experience it offered; I also had a good experience interacting with staff and students during the application process. Conestoga has always made me feel welcomed, wanted and a valued member of the school.
Through this program I gained valuable knowledge as well as practical experience through projects and co-op. The IBM program allowed me to spend a year studying in Ireland and earning a double degree. I was able to experience a research focused learning environment which gave me a diverse set of skills all while experiencing different cultures. Studying at IT Carlow was the opportunity of a lifetime and one that I didn't believe I would get in my university experience.
The international and academic experiences that Conestoga College and IT Carlow gave me helped with my acceptance into the Wilfrid Laurier MBA Co-op program. I strongly believe that I received the best university experience through my time at Conestoga and attending the IBM program is one of the best choices I have ever made.
Laura Barnard

I graduated from the program in 2014 and I was immediately employed by BlackBerry in its global supply chain department as a supply chain analyst.
In October, after I graduated, I was accepted into Laurier's part-time MBA program as the only college graduate in my class. I'm now 25 per cent done in less than a year thanks to exemptions from the IBM program.
After a year with BlackBerry I was hired at 3M Canada as a supply chain analyst which was in London. I was offered a full-time permanent position which is extremely rare, but due to the commute I chose to switch to something local.
Currently, I work as a supply chain planner at Dare Foods in Kitchener. I absolutely loved all of the jobs I've had thus far, and have thrived in each one. The tools that I learned at Conestoga have helped me escalate my career very quickly and really find something that I love.
I'm thankful every day that I chose IBM at Conestoga. When I look at what I learned from class plus co-op experiences, I'm blown away at what four years did for me.
I've been lucky to have the chance to hire co-ops in two of my roles and chose someone from the IBM program just last year - who also thrived in her placement.
Jeremy Legg

Four years out of the IBM program, I have had the opportunity to complete an MBA and work in two separate functions with senior management for two multinational consumer packaged goods companies.
Conestoga's IBM program was the stepping stone required to achieve the accomplishments I have in the workforce so far.

The program's applied learning has helped me function at an effective level across both technical skills like, Microsoft Excel and quantitative methods, as well as softer skills like, understanding why HR and senior management are looking at re-organizing job functions, or presenting to a room full of account managers. My academic and professional careers are all connected to the first year I started Conestoga's IBM program.