Entrepreneurship Management
Credential:

Ontario College Graduate Certificate

College Code:

CONS

School:

Program Code:

1310
Accelerated Delivery:

No

Campus:

DO

Academic Year:

2019 / 2020
Program Reflections
Rodrigo Caetano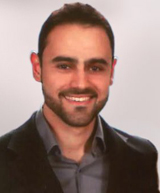 My name is Rodrigo and I studied in the Small Business Ventures (now the Entrepreneurship Management) program at Conestoga College.
The program gave me the basis needed to understand the challenges of operating small businesses and start-ups in Canada.
I have acquired skills in growth planning, finance, project management, economy trend analysis and more. I'm grateful that everything I learned has helped me get a step further in my career.
The professors were a huge part of my current success. All of the faculty in the program have industry experience which allowed us, the students, to clearly understand the reality outside of the school walls.
I see the Small Business Ventures program as a need for those embarking on the entrepreneurship quest. There are many obstacles that would be difficult to overcome without the proper knowledge and this is the place to start learning.