Conestoga ONE Card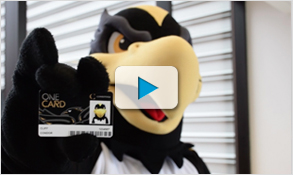 The Conestoga ONE Card is the official identification card for all daytime students and employees. The card is designed to keep campus life simple by offering an all-in-one solution to accessing eligible on-campus services and purchasing.
Check out the list of places below where you can use your ONE Card and be eligible for Condor Perks!
February 2017 Double Your Dollars Contest!
Load $100 your ONE Card during February to be entered to win 1 of 5 $100 Condor Cash Prizes.
Where can I use my ONE Card?
Off-Campus Locations
McDonalds – 2410 Homer Watson Blvd (In store, at counter)
More coming soon
Doon (Kitchener) Campus Locations
Bookstore
Canteen Vending
Chartwells (On the Go, Grill & Co, Starbucks)
Conestoga Students Inc Service Hub
Conestoga Students Inc Wellness (Chiropractic, Massage)
Library
M & T Print
Parking
Pita Pit
Pizza Pizza
Smokes Poutinerie
Subway
The Venue
Tim Hortons
Cambridge Campus Locations
Bookstore
Chartwells (Tim Hortons)
Conestoga Students Inc Service Hub
Pizza Pizza
Subway
Guelph Campus Locations
Bookstore
Chartwells
Waterloo Campus Locations
Bookstore
Chartwells
Conestoga Students Inc Service Hub