2017–2020 Strategic Plan
Letter from the President and Board of Governors Chair
When Conestoga College first opened to provide career-based education and training for 188 students in Technology, Business and Applied Arts programs, it operated out of a small single building and two portable classrooms. Despite its humble beginnings, the institution's mission was tremendously important: to support the needs of the local community by providing highly skilled workers for business and industry while inspiring students to achieve their full potential.
That was 50 years ago. Since then, we've grown and adapted to meet the changing needs of our students, our partners, our community and our world. We've evolved from a tiny community college to a multi-campus institute for polytechnic education, delivering a comprehensive range of programs to support workforce development and prepare an increasingly diverse group of learners for career and life success.
The 2017-2020 Strategic Plan provides a framework for the next stage in our journey and will serve as a foundation for the college's operations for the next three years. We will continue to focus on the core goals of quality, capacity and sustainability as we work in collaboration with our partners to support student success, economic growth, and a stronger, more prosperous community.
The plan builds on our strengths and successes, and provides opportunities to expand in new directions as we adapt to the opportunities and challenges that lie ahead.
It includes new initiatives that will support enhanced access to education and training for individuals from across our community. It addresses emerging talent shortages that impede business growth, and supports the development of new capacity to address identified needs.
There are many exciting developments ahead as we continue our transformation as a world-class institute for career-focused learning and applied research.
The importance of student-centred, career-focused education has never been higher, as we work to align the skills of available workers with the needs of a rapidly changing labour market. We invite you to engage with us on the exciting course we have set for Conestoga's future.
Thanks to the many individuals who have contributed to the development of this plan. Your input and commitment to the process have been greatly appreciated.
John Tibbits
President
Peter Benninger
Chair, Board of Governors
Download a Copy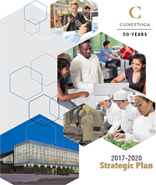 Polytechnic Advantage