E3 Conference
This year's E3 Conference is scheduled from Monday, June 18 through Thursday, June 21, and will include two exciting keynote speakers and a variety of interesting workshops throughout the week.
2018 E3 Conference
Opening Keynote
Monday, June 18, 2018
1:30 p.m. – 2:30 p.m.
Doon Campus, Doon Main Building, Room 1B18 (Blue Room)
To attend this event register for PDEV0290.
Ken Steele
Conestoga Fast Forward: Polytechnic Evolution towards the Future
Around the world, forward-thinking institutions of higher education like Conestoga are evolving and innovating in the face of intensifying fiscal, political, economic and demographic pressures. The labour market is shifting rapidly, from the introduction of new technologies and changes in government policy, and a so-called "fourth industrial revolution" predicts the automation of almost half of existing employment worldwide.
Our student population is multiplying and diversifying exponentially to include growing numbers of international students, new Canadians, Indigenous youth, mid-career professionals, university graduates, and students with special needs, diverse gender orientations and learning styles.
Technical breakthroughs in artificial intelligence, augmented and virtual reality continually raise expectations for learning and support services that are interactive, experiential, mobile and social. Insights from cognitive science, big data and predictive analytics are driving new approaches to instruction, resources, evaluation and credentials. The dizzying array of current and impending change is simultaneously awe-inspiring and a little overwhelming.
Higher education futurist Ken Steele will open our conference with a dynamic, eye-opening and entertaining keynote that synthesizes global research data, emerging trends and promising practices to offer a "big picture" overview of the full range of innovation that will remake polytechnic education over the next two decades. Let's explore the possibilities for Conestoga, and ways in which we can prepare ourselves, our students and our institution for a bright and promising future.
Be sure to bring a smartphone or tablet so you can add your voice to real-time polls.
In 2003, Ken conceived and co-founded Academica Group, a market research firm doing some of the largest post-secondary consumer surveys in the world, and created the Top Ten, which has become Canada's leading higher education daily news. Ken left Academica in 2012 to focus on his public speaking and facilitation work under the new name Eduvation. He hosts an almost-weekly webcast, Ten with Ken, which explores emerging trends, bright ideas, and higher education marketing.
Closing Keynote
Thursday, June 21, 2018
10:30 a.m. – 11:30 a.m.
Doon Campus, Doon Main Building, Room 1B18 (Blue Room)
To attend this event register for PDEV0660.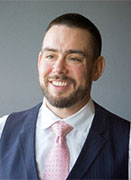 Drew Dudley
This is Day One – Why you're a Leader & What You Can Do about It
"How many of you are completely comfortable with calling yourself a leader?" Leadership speaker Drew Dudley has asked that question to hundreds of thousands of people around the world, and he's yet to find an organization where the majority of employees are willing to call themselves leaders. That's a problem—and this keynote aims to help solve it.
We often evaluate leadership over periods of time: a fiscal quarter, a year, even an entire career. Dudley argues that the most impactful leaders and the most successful organizations evaluate leadership differently. They focus on "everyday leadership" and ensure that it's fostered, acknowledged, and rewarded. To Dudley, this means creating a process to create more "lollipop moments." Don't be fooled by the name; "lollipop moments" represent moments of powerful impact and growth, and can be transformative at every level of an organization.
A born storyteller with infectious energy, Dudley shares practical insights on how successful leaders create cultures of leadership in their own lives and within their organizations. Featuring examples that originate everywhere from small-town Canada to the deserts of Qatar, and characters who range from janitors to CEOs, this presentation will make you laugh, think, and reconsider the ways you evaluate leadership in your life and workplace.
Prior to founding Day One, Drew spent eight years as the Director of one of Canada's largest leadership development programs at the University of Toronto and served as National Chair of Canada's largest post-secondary charity, which mobilized 35,000 volunteers annually to support the work of Cystic Fibrosis Canada. Recognized as one of the most dynamic keynote speakers in the world, Drew has spoken to over 250,000 people on five continents, been featured on The Huffington Post, Radio America, Forbes.com, and TED.com, where his TED talk has been voted one of the 15 most inspirational TED talks of all time.