Parking at Conestoga
All vehicles parking on Conestoga property must have a valid permit or pass.
Parking is enforced Monday to Friday, from 7 a.m. to 4 p.m.
Licence plate recognition: no physical permits required. Conestoga uses Licence Plate Recognition (LPR) software to monitor campus parking lots. LPR technology uses character recognition to scan licence plates. Unregistered vehicles found within college parking lots will be ticketed.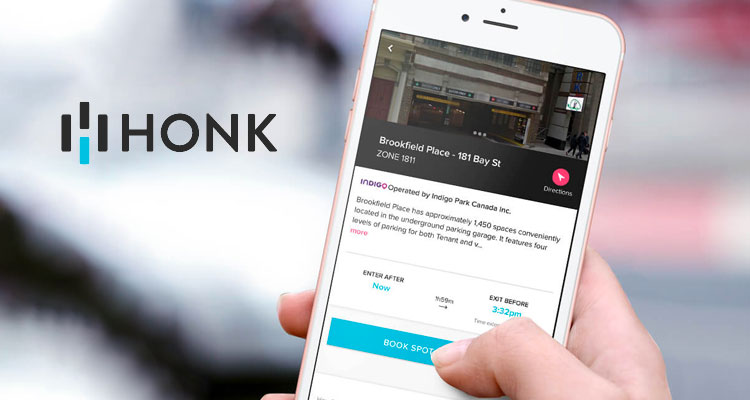 Visitor parking

Pay for hourly or daily parking through HonkMobile using the following options:
1. Download the app on the App Store or Google Play, or
2. Use the HonkMobile website, or
3. Scan the visitor QR code located at the main entrances and in the parking lots.

Alternative transportation
Conestoga encourages alternative and sustainable transportation.
Bike racks

Bicycles are prohibited from entering all Conestoga buildings. Bike racks are located at all campuses. Please lock your bike properly.                  
CSI shuttle

Conestoga students and employees can use the complimentary CSI shuttle service by showing their ONE Card.               
Public transit

Public transit options are available to Conestoga students depending on the campus they're registered at. Visit the Public transit web page for more information.         
Carpooling

If you would like to share a parking permit and carpool, please register all the vehicles that will be used. You can only have one of the vehicles registered to the permit on campus at a time. Be aware, the person whose name appears on the parking system is responsible for the permit. 

Visit the TravelWise Program information below to find a carpool near you.

TravelWise Program

Students      

Travelwise makes it easy to find a carpool match. Visit gotravelwise.ca/s/ccstudents and follow the steps to register and organize a carpool near you.


Employees


Conestoga College is a member of TravelWise, an internationally recognized workplace program that aims to encourage employees to take transit, cycle, walk and carpool to work. As an employee of Conestoga, you have access to the following services:         

Discounted Corporate Transit Pass: Take advantage of a 15 per cent discount to the monthly Grand River Transit (GRT) pass. Your Corporate Pass will be mailed directly to your home with an easy step-by-step process to purchase your discounted monthly pass.
Carpool matching and trip logging platform: GoTravelwise.ca is an online carpool matching platform where employees can find and organize carpools. We have our own private network that can only be accessed by employees. You can also log commuting trips to see the impact and cost savings of your sustainable commute.
Emergency ride home reimbursement: If you take transit, walk, bike or carpool to work you have access to the emergency ride home reimbursement program.