Addressing Canada's productivity challenge

Canada is struggling with declining productivity. Our GDP per capita growth rate has been on a downward trajectory for over 40 years, reducing our competitiveness and affecting our standard of living. Real productivity, performance improvement, and sustainable competitiveness is elusive for many organizations. Yet, sustainable competitiveness is achievable. If we truly want to improve productivity, operational and financial performance, and realize a state of sustainable competitiveness in our organizations, a transformation in thinking and behaviour is required.
The supply chain sector is critically important to Canada's economy. The sector employs more than 870,000 Canadians, accounts for over $500 billion in total export goods from Canada, and is responsible for planning, coordinating and moving more than $1 trillion worth of goods each year.
Right now more than 27,000 supply chain positions in Canada sit unfilled, and another 66,000 openings are anticipated each year for the next five years. Source: careersinsupplychain.ca
Located within the Toronto-Waterloo Innovation Corridor, the Magna Centre for Supply Chain Excellence at Conestoga College will work with government and industry partners to address Canada's productivity challenge and the urgent need for skilled supply chain specialists to address current and emerging business needs.
Magna International is a leading global automobile supplier with 327 manufacturing operations and 100 product development, engineering and sales centres in 29 countries. With more than 161,000 employees, Magna focuses on delivering superior value to their customers through innovative processes and world-class manufacturing.
With the drive to continuously improve productivity to remain a leader in the global economy, Magna has partnered with Conestoga College to establish the Magna Centre for Supply Chain Excellence.
giving to conestoga
research centres
Contact us
Find out how the Magna Centre for Supply Chain Excellence can help your organization with productivity improvement.
Stephen Thomson, BBA, MBA
Director, Magna Centre for Supply Chain Excellence
Conestoga College Institute of Technology and Advanced Learning
299 Doon Valley Drive
Kitchener, ON N2G 4M4
sthomson@conestogac.on.ca
519-748-5220, ext. 3895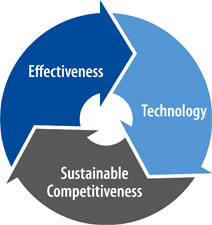 Strategic initiatives
Address the shortage of skilled supply chain specialists

Develop a new collaborative supply chain management education model focused on meeting the needs of employers while increasing the number of skilled supply chain graduates.
Address the supply chain system thinking knowledge gap

Focus on supply chain programming that develops integrative supply chain system thinking competencies in its graduates.
Lobby for the inclusion of integrated supply chain system thinking into post-secondary curriculum across Ontario and Canada.
Applied research, knowledge creation and innovation

Link participating organizations with faculty and student project teams to tackle supply chain and operations challenges and opportunities.
Enhance curriculum and currency of faculty as a result of continuous learning in real-world environments.
Collaboration and knowledge dissemination

Develop global networks with professional associations, key government ministries, business, industry and financial lending institutions to leverage innovation and resources, and disseminate new knowledge.
Facilitate the publication of business cases, impact reports and other communication.
Conduct workshops, seminars and conferences to share best practices.
Vision
World-leading productivity and competitiveness of Canadian organizations.
Mission
In collaboration with government, business and industry, address Canada's productivity challenge through excellence in education and application of integrative supply chain system thinking.
Study supply chain at Conestoga
Conestoga's supply chain management programs have a proven track record in developing skilled supply chain specialists. Program graduates are well-positioned to immediately add value to firms that hire them, contributing to improved productivity, operational and financial performance. As a result, graduate placement rates are consistently between 90 and 100 per cent, with high starting salaries.