Opportunities for Research at Conestoga
As Conestoga grows its research programs within the institution and the local community, we continue to develop new opportunities for all our stakeholders.
Students
Conestoga continues to develop and expand its hands-on research opportunities for students. These opportunities provide avenues for students to develop their knowledge and experiences.
Capstone, final-year or thesis projects (usually in partnership with an external organization or company) can provide students with an opportunity to explore personal areas of interest, to demonstrate the knowledge and skills learned throughout the program, and/or to develop a new product or service before entering the workforce. In some programs, curriculum-based projects can offer a very specialized research opportunity - the application of course-material to solve a real-world problem while taking a specific course. Independent projects, existing outside of normal course program activities, allows a student to develop a wide-range of problem solving skills, to explore cross-disciplined ideas, to apply program knowledge to real-world problems and at the same time to earn a salary while at Conestoga.
In many programs, dedicated research courses offer students the opportunity to learn specialized topics including (but not limited to) research methodologies, research statistics and project presentations by faculty, students and external guests.
Faculty & Researchers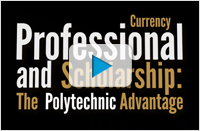 The CARI office works with faculty, researchers, administration and many others to develop new applied research opportunities with local industry and organizations, to develop new funding applications for institutional and project funding and to develop new venues (e.g. Innovation Events) to review and promote our research capabilities and interests.
In many curriculum and independent projects, external funding needs to be sought in order to be able to conduct the applied research activities. The CARI office works with funders, faculty, researchers, companies and/or organizations to develop the funding applications, maintain certain funder documentation, assist with the hiring of students and assists with the ongoing metrics-gatherings that funders require.
The research activities at Conestoga also provide an avenue for faculty and researchers to explore Professional Currency & Scholarship opportunities.
Companies and Organizations
Many programs across Conestoga participate in applied research activities. Although Conestoga is developing several dedicated pillars of applied research (see Our Centres), there is a wide-range of research interests, expertise, and opportunities in order to engage with students, faculty, and researchers.
A capstone, final-year or thesis project allows a company to work with one or more students on a specific problem. A curriculum project allows a company to explore the solution to problems with the participation of many students (and possibly an entire class). Independent projects provide the most flexibility but are usually the highest cost approach - and this normally leads to seeking external funding from government sources.
To start, contact the CARI office and we will guide you through the process.
Some funding sources and additional information are noted below.
Post-secondary Institutions and Research Facilities
Conestoga has dedicated pillars of applied research expertise (see Our Centres). Through these Centres and other research activities, we are actively seeking new partnerships with our regional, provincial, national and international post-secondary institutions and research facilities.
Please contact the CARI office to explore the research opportunities at Conestoga.
Opportunities for Research at Conestoga
Funding Opportunities
Government grants will normally be sought for applied research projects (i.e. independent and curriculum projects). The availability of federal and provincial grants change throughout the year. In addition, both federal and provincial governments will have special focus areas for grants - and these are subject to change each year. For the latest grant information, please contact the CARI office.
Below is a list of a few resources that companies may find useful:
Funding Opportunities

| Name | Description | Link |
| --- | --- | --- |
| Natural Sciences and Engineering Research Council | Most grants are only available to post-secondary institutions. The range of grants will allow one to assess the potential funding possibilities for Conestoga. | NSERC |
| Special Note: NSERC IUSRA | The Industrial Undergraduate Student Research Award is now available for college students and companies seeking additional funding for co-op opportunities within research. Contact Conestoga Co-op Services for more information or visit the IUSRA site. | IUSRA |
| Ontario Centres of Excellence | Wide variety of grants for both post-secondary institutions and for companies. Most grants are focused on the transfer of ideas into products - enabling economic development and job creation. | OCE |
| Business Development Bank of Canada | The BDC has a variety of services and investment opportunities specifically aimed at companies and the growth of marketplaces. | BDC |
| Scientific Research & Experimental Development (SR&ED) Claims | Although there are many SR&ED websites and online service providers, the following link to the Canadian Revenue Agency (CRA) will provide you with a good starting point. | SRED |
| The Funding Portal | The Funding Portal is an online service for companies to search through the wide range of government grants and financing opportunities. | TFP |
| Canadian Subsidy Directory | The Canadian Subsidy Directory provides an in-depth reference for provincial and federal grants, loans and other funding opportunities - mostly for companies. | CSD |