OSAP Interest-free Status and Repayment
Interest-free status for previous loans
If you are a full-time college student who is not receiving OSAP, or you are on an official co-op work term, you may complete an application for continuation of the interest-free status to keep your prior loan(s) interest and payment free.
You can apply for interest-free status by logging in to your account on the OSAP website. There are also paper forms available at the Financial Aid Office. You must submit your application during your study period. Forms cannot be processed once your study period, or co-op period, has ended.
Repayment
Repayment of your loan is required if you have:
graduated from your studies,
withdrawn from school,
transferred to part-time studies, or
taken a leave of absence for more than six months.
For the first six months following your program end date, you will not have to make payments on your student loan, however, interest will accumulate on the federal portion of your loan during this period. This is known as your six month grace period.
During your six months grace period, the National Student Loan Service Centre will contact you to set up repayment arrangements. Starting payments early, or paying more than the minimum can save you money. If you have questions, you may contact the NSLSC at: 1-888-815-4514.
Tracking your loans
Register with the National Student Loan Service Centre.
Check the status of your loan and update your contact information online.
Trouble with your payments?
There is help available and it is easy to apply for assistance online. Go to the Canlearn or OSAP websites and search for Repayment Assistance Programs (RAP).
Videos

NSLSC repayment presentation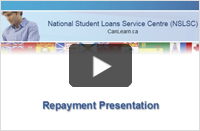 Government student loans and grants webinar