Congratulations to our 2017 Alumni of Distinction award recipients.

Harry Baker
Harry Baker graduated from the Construction Engineering Technology program in 1973. Harry spent more than 30 years as a microclimate specialist at wind engineering and environmental engineering consulting firm Rowan Williams Davies & Irwin Inc., where he became known as one of Ontario's foremost wind experts and a pioneer in the science of snow control. As a consultant for highway snow drifting projects across Canada and the northern United States, he is credited with saving maintenance costs and lives. His deep knowledge of, experience in, and research on the subject led to multiple papers, including managing drifting snow best practices.
In 2016, Harry was formally recognized for his professional achievements as a Fellow of the Ontario Association of Certified Engineering Technicians and Technologists — the organization's highest and most prestigious designation. That same year, he delivered the alumni address at Conestoga's spring Convocation.
Harry was also an active volunteer at Elgin-Middlesex Detention Centre in London, Ontario, where the support program he launched in 2011 to help inmates cope with life issues continues today.
Harry is now retired and living in Victoria, British Columbia.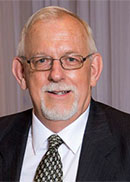 Alison Carden
Hundreds of public sector clients across North America credit Alison Carden and her team with helping them better connect with their communities and deliver services more efficiently using technology. Alison is a senior project manager at eSolutionsGroup, a web and mobile product design company with offices in Waterloo and Toronto, and a principal at eSolutionsGroup's parent company, GHD, a global environmental, engineering, construction and IT services firm.
For more than a decade, Alison has specialized in advanced modular website design and deployment, apps and database solutions, and has forged a leading reputation as a specialist in the evolution of online procurement technologies, including eSolutionsGroup's bids&tenders system. She leads a group of 15 quality assurance, security testing, sales and product management teams working across Canada and the United States.
Since graduating from Conestoga's Software Engineering Technician program in 2006, Alison has studied procurement law at York University and professional services leadership at the Harvard Business School.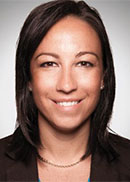 Michael Carpenter

Michael Carpenter graduated from the Computer Programmer/Analyst program in 2003. Michael was a key player in building online technology company FameBit, which was acquired by Google in 2016. He single-handedly built FameBit's platform from the ground up in 2013, creating an online marketplace that connects more than 70,000 content creators on YouTube, Twitter and Instagram with 7,000 big brand marketers, including Sony, Adidas, Canon and Conair. FameBit founder Dave Kierzkowski credits Michael with delivering the vision that made the acquisition possible. Michael met directly with Google's senior engineers and was the point person during technical discussions.
Today, as vice president, engineering at FameBit's new headquarters in Santa Monica, California, Michael continues to lead the growth of the company's technology with a team of five software engineers, which include four other Conestoga graduates. A visionary and pragmatic leader, he is recognized as having the unique ability to translate his company's goal to improve the user experience into a practical engineering strategy.
FameBit is currently the only place social media influencers can safely and effectively monetize their content, from product reviews and tutorials, to tweets and online videos.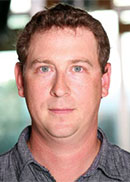 Kelsey Engel

Kelsey Engel graduated from the Educational Assistant program in 2015. It was more than a decade ago that Kelsey joined her first basketball game with Special Olympics Ontario Kitchener-Waterloo. The experience stuck, and in 2016 she had the once-in-a-lifetime opportunity to celebrate two important achievements: walking across the stage at Convocation as a Conestoga graduate and a place on the roster of the 2016 NBA Cares Special Olympics basketball game in Toronto. Kelsey played in the invitational game alongside Special Olympic athletes from other countries, as well as past and present NBA and WNBA players.
From basketball to swimming and downhill skiing, athletics have always been an important part of Kelsey's life. She received physical therapy for cerebral palsy as a child and, later, volunteered to help other young people achieve their goals. Those experiences contributed to her desire to study at Conestoga and work toward a full-time career supporting the successes of students with exceptionalities.
Kelsey has worked at Owl Child Care Services since 2012.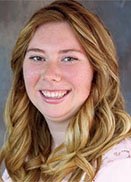 David Frazer

David Frazer graduated from the Business Administration — Management program in 1997. David is a consummate relationship-builder. As national vice president, key accounts for Manulife Bank of Canada, he is the point person for the bank's largest distributor partners, including Canada's top five banks, and the senior leader directly responsible for a near doubling of year-over-year business banking sales.
David's career has been on the fast track since he joined Manulife in 2004. He conceived and built the bank's Inside Sales division from the ground up and grew the Key Accounts unit into a national force. He's also an exceptional manager, credited with empowering staff and giving them the opportunities and resources they need to succeed individually and collectively.
An outspoken advocate of college education, David was a member of the Business Administration Program Advisory Committee from 2000 to 2009. He continues to help pave the way for more college graduates to enter the financial services sector by growing the relationship between Manulife's recruitment team and Conestoga's student placement and co-op staff.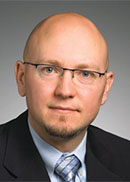 Robert (Bob) Frey

Bob Frey has spent decades in one of Grand River Hospital's busiest places. Currently, as clinical manager of the hospital's operating room and post-anesthetic care unit, he collaborates with staff and physicians to solve problems and assure best patient care.
Bob joined the then KW Hospital as a medical attendant in 1978. Two years later, he completed Conestoga's Nursing Assistant program, followed by a Nursing diploma in 1981. Throughout his education and most of the years since, Bob has continued to work at Grand River Hospital and in the operating room. As the surgical program has grown, so too have his responsibilities, culminating in 2016 with his current appointment.
In the early 2000s, Bob returned to Conestoga to help develop and teach a continuing education perioperative nursing program, a graduate certificate program for nurses who aspire to work in an operating room setting.
Bob is a certified perioperative nurse with the Canadian Nurses Association and a past human rights representative for the Ontario Nurses Association.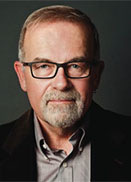 Gary Hauck

Gary Hauck's first job after graduating from Conestoga's Construction Engineering Technology program in 1979 is still his job today — give or take a few important promotions along the way. Gary joined Ball Construction as an estimator. He partnered with Jason and Cameron Ball in 2005 and is now vice president and estimating manager, overseeing all functions of the estimating department. In this capacity, Gary plays an important role in securing some of the largest and most challenging construction projects locally and in the province, including the Waterloo Recreation Centre, Stephen Hawking Centre, Activa Sportsplex and University of Waterloo School of Pharmacy.
Gary is also an active industry leader having served for 10 years on the board of the Grand Valley Construction Association and as its chairman in 2014. He has also contributed his expertise to the Canadian Construction Association as a three-year board member.
At Conestoga, Gary is a 16-year member of the Construction Engineering Technology Program Advisory Committee. He was chairman in 2015.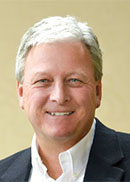 Kevin King

Kevin King graduated from the Ambulance and Emergency Care program in 1995. From paramedic to the vice president of global marketing for SynDaver Labs, the company behind the world's most sophisticated synthetic medical simulators, Kevin knows the value of high-tech clinical training. Kevin joined SynDaver in 2017, bringing 18 years' experience as a health-care executive in the medical simulation marketplace, most recently at CAE Healthcare in Tampa Bay, Florida. In 2004, he was awarded a fellowship to the Institute for Medical Simulation associated with Harvard University and the Massachusetts Institute of Technology.
Prior to his executive leadership roles, Kevin spent 15 years serving patients as a critical care paramedic in the air and on the ground. As the chief of ambulance services in Muskoka, he led a paramedic team of 50 and was recognized by the Prime Minister of Canada for his leadership during the 2010 G8 summit.
Kevin is the founder of the Alliance for Simulation Specialists and Educators - now known as SIM-one, in Toronto. He has been published numerous times for his outstanding research, and is recognized globally as a subject matter expert in the field of medical simulation.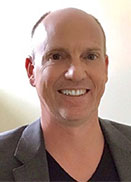 David Knott

Information technology security is a hot topic today, it has been David Knott's singular focus since graduating from Conestoga's Electronics Engineering Technology program more than 30 years ago. David has devoted his career to providing IT security services to businesses, both as a staff member and as a consultant supporting industries ranging from mining and retail, to education, hospitality and banking.
For the last seven years, David has worked at BDO Canada as senior manager of the company's risk advisory practice and the national technology, risk and security practice leader. He specializes in managing IT-related services. Previous roles included IT positions at Grant Thornton LLP Canada and EY.
David is credited with having a sharp technical mind, an ability to liaise between technical and non-technical persons and hands-on experience leading every stage of system development.
David continues to stay connected with Conestoga and was a judge for the student MasterCraft Award competition earlier this year.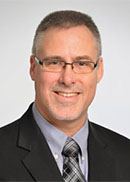 Allie Libertini

2017 was a milestone year for Allie Libertini.
In March 2017, while still a Conestoga student, Allie was one of 110 athletes representing Canada at the Special Olympics World Winter Games in Austria, where she earned two silver medals and a fifth-place finish in Nordic skiing. In June, Allie crossed Conestoga's convocation stage to receive her certificate in Community Integration through Co-operative Education, a two-year program to support students with learning challenges and exceptionalities as they aspire to attain their goals and make a meaningful mark in the community.
Allie has been involved with the Special Olympics for seven years. She qualified for Team Canada at the Special Olympics Canada Winter Games in Newfoundland in 2016 and spent the year training at home and in British Columbia while juggling her college classes.
Allie made a special trip to Conestoga after returning from the Winter Games in March to share her achievements with her classmates and teachers.
Allie is currently pursuing her passion for healthy eating as an employee at The Chopped Leaf in Waterloo.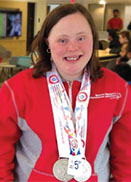 Stefanie Miller

Stefanie wrote a research paper about post-traumatic stress disorder as a student in Conestoga's Paramedic program in 2007. The paper earned her an Ontario scholarship and directed the future focus of her career.
Eight years after graduating and working as a first responder with Brant County EMS and Waterloo Paramedic Service, Stefanie learned first-hand how important it is to find healthy ways to cope after an especially stressful shift. She launched Wings of Change, the area's first support group for people who experience workplace trauma. The group offers a comfortable, safe atmosphere in which those who encounter traumatic situations at work can talk about their feelings and experiences. She is also helping to develop a peer support program for the County of Brant.
Education also remains an important part of Stefanie's coping toolbox. In addition to certifications in psychological first aid training, suicide intervention and the Road to Mental Readiness mental health training program developed by the Department of National Defence, she is enrolled in the First Responders Trauma Prevention and Recovery certificate program at Simon Fraser University.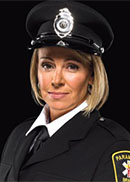 Troy Miller

Troy Miller graduated from the Business Administration —  Marketing program in 1993. Nearly 20 years in North America's manufacturing sector was just the first act in Troy's multi-faceted career. In 2012, Troy shifted gears to bring his expertise in industrial distribution to the technology sector. He joined IMA Ltd. as vice president and chief operating officer, earning his Master Data Quality Manager certification in 2013. He works closely with the revenue generation, finance and operation teams to expand the services of the company to compete in a global marketplace. An industry leader in materials data cleansing, IMA works with some of the world's most recognized brands.
Throughout his career, Troy has remained connected to his alma mater. He joined Conestoga's Marketing Program Advisory Committee in 2003 and has served as its chair since 2005. Troy is a true believer in the power of alumni involvement to help students graduate with the skills they need for an ever-changing workplace.
Troy was born and raised in Waterloo. He continues to live in the city with his daughter, Payton.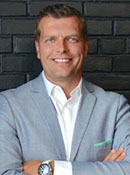 Adam Plumstead

Conestoga's Electrical Engineering Technology program was the running start Adam Plumstead needed to land a job as a SCADA system integrator at Eramosa Engineering immediately after graduation. Ten years later, he's progressed to the role of technical group lead responsible for project management, business development and oversight of several of Eramosa's teams, providing engineering and integration services to help the municipal water and wastewater sector use technology to plan for the future.
Adam recently represented his company at conferences in Ontario and the United States, helping colleagues sector-wide advance their understanding of the role of computer control systems in treating and distributing water, collecting and treating wastewater, and managing storm water.
Adam joined Conestoga's Electrical Engineering Technology Program Advisory Committee in 2012 and he is a steady champion of the program's graduates, helping to recruit many Conestoga alumni as Eramosa staff.
Adam was also instrumental in the establishment of the Eramosa Engineering FITT Award presented to Conestoga electrical engineering technology students who display the company's core values of fun, initiative, technical excellence and trust.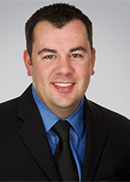 Rachel Schoutsen

Rachel Schoutsen graduated from the Videography program in 2012. In Grade 9, Rachel declared that she was going to work for The Weather Network (TWN). She kept her promise. She joined the organization in 2011, first as a Conestoga intern and later as one of TWN's first video journalists. She is now the host of TWN's flagship Toronto Morning Show, delivering live weather forecasts and traffic reports over a four-hour program. Her strong storytelling skills and knowledgeable, high-energy leadership have sparked a 17 per cent increase in viewer engagement.
Rachel is also an active contributor to TWN's digital platforms. During the 2016 Fort McMurray wildfires, she produced a compelling story about a young bride-to-be who lost her home and her wedding dress to the blaze and was preparing to marry in Toronto in a donated dress. The story attracted nearly 70,000 online video views.
Rachel hosts her own lifestyle website and blog with a focus on healthy living and long-distance running. She regularly shares her inspiring story with high school and post-secondary students, including at Conestoga's 2015 Convocation.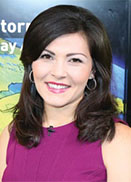 Grant Schwartz

A welding apprenticeship from Conestoga helped to leapfrog Grant Schwartz from his one-man motorcycle and hot rod shop in Elmira, Ontario, all the way to the Discovery Channel.
After losing his father at the age of six, Grant became the man of the house — dedicated to caring for his mother and sisters. Grant landed his first welding job when he was just 15 years old. While a student at Conestoga, he launched his auto fabrication business, Schwartz Inc. In 2015, Grant was selected from thousands of applicants to appear in the second and third seasons of the Discovery Channel reality show, Vegas Rat Rods, which follows a team of car builders at a shop in Las Vegas.
Grant is now back in Elmira and focused on his family — including new wife, Rosie, and their children — and growing his fabrication business.
Grant is currently working on building a 1932 Chrysler 3 window highly, a 1932 Ford 5 window and a 1928 Essex sedan rat rod.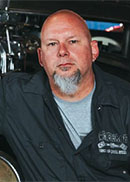 Peter Shannon

Peter Shannon graduated from the Broadcasting — Radio and Television program in 1991. As the founder and president of Memory Tree Productions Inc., Peter leads a team of 18 visual storytellers who are changing hearts and minds using video. From a one-person shop producing instructional videos for Mr. Christie's cookie company in 1996, Peter has grown Memory Tree into a $2 million annual enterprise.
In Memory Tree's early years, Peter fulfilled every role, from cinematographer and editor to sales representative and accountant. Today, he oversees every production and its budget, and is directly involved in conceiving and pitching creative ideas to clients such as Home Depot, Unitron, Economical Insurance, Ovarian Cancer Canada, Family and Children's Services of Waterloo Region and his alma mater, Conestoga.
Between 1996 and 2005, Peter helped to train the next generation of visual storytellers as an adjunct faculty member in Conestoga's Broadcasting program. He also served as chair of Conestoga's Media Program Advisory Committee from 2013 to 2015, and has mentored more than 24 student interns at Memory Tree.
Peter is the winner of a 2017 Telly Award and six Marcom Awards honouring the world's best storytellers.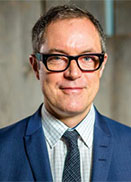 Shannon Thompson

After co-founding and managing two highly successful Kitchener restaurants, Shannon Thompson is harnessing her skill and entrepreneurial spirit to launch her next new venture: a travel business. The 2007 Conestoga Food and Beverage Management graduate co-founded Hog Tails Bar-B-Que in 2009 (now known as Hog Tails Smoke and Soul BBQ) and The Lancaster Smokehouse in 2011.
The restaurants were featured on Food Network Canada's You Gotta Eat Here! in 2012. In 2013, Shannon was recognized as one of the top 30 service industry professionals under the age of 30 by the Ontario Hostelry Institute. During her years in the business, she maintained close ties with her alma mater, hiring many Conestoga hospitality students and supporting Conestoga's Iron Chef fundraising program.
Several years ago, Shannon left the restaurant game to start a family and pursue her next passion. She's currently building a second career as a travel consultant with Waterloo's Northstar Travel & Associates.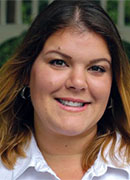 Kathryn Young

Conestoga's Women in Skilled Trades Pre-Apprenticeship training program set the stage for Kathryn Young to achieve a provincial first: she is the first woman in Ontario to complete the apprenticeship training and pass the Certificate of Qualification exam for Sprinkler and Fire Protection Installer.
Kathryn began her career at Conestoga as a carpenter apprentice before changing course to become an apprentice at a local sprinkler company. She joined Prime Fire Protection in Oakville mid-way through her training following a leave to start a family. The Kitchener native now works for Troy Life & Fire Safety Ltd, a national service company specializing in sprinkler installation, fire alarms and security products for commercial, government, military, institutional and high-rise residential buildings across Canada.
Kathryn continues to work hard to advance her career and support herself and her son while juggling the challenges of being a single parent. She credits her success to her supportive employers and colleagues, as well as her passion for physical work and her personal motto: never give up.