Virtual celebrations

Please note:
Celebration links will be available at 1:55 p.m. on Wednesday, November 10.

All celebrations are pre-recorded and organized by academic school.
Not sure which academic school your program belongs to? Find your program.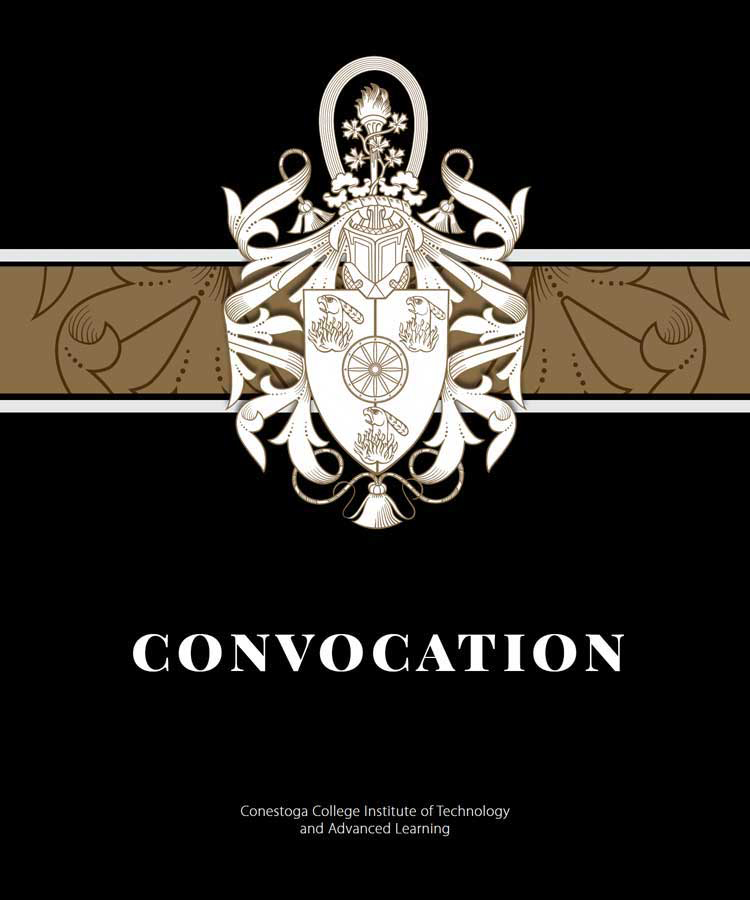 Spring 2021 Convocation program
How to prepare
Step 1: Verify your name and address are correct on the Student Portal

Login to the portal and go to the 'Personal Info' tab. Ensure that your address is correct so that delivery of your document is not delayed.

Step 2: Verify you are a graduate

It is very important to verify that you have met the requirements of your program and are eligible to graduate.
Once all of your final grades are posted, click the 'View Achievement Report' from the 'Grades' tab in the portal. If your status does not show as 'Graduate', select the 'View Progress Report' button from the 'My Courses' tab to see if there is anything outstanding. You may require the services of our Credit Transfer department or you may need to contact your coordinator to discuss any discrepancies.

Step 3: Ensure you don't have any outstanding fees or fines on your account

Check your 'Financial' tab to ensure you don't have any holds or outstanding fees on your account. Even a parking ticket will prevent you from being able to receive your document.
Step 4: Let us know if you are attending the celebration

Check your Conestoga email for a notification from noreply@marchingorder.com and follow the instructions to personalize your slide.

Find your program (programs are listed by academic school)
APPLIED COMPUTER SCIENCE & INFORMATION TECHNOLOGY

Big Data Solution Architecture
Computer Application Security
Computer Applications Development
Computer Programmer
Computer Programmer/Analyst
Information Technology Infrastructure
Information Technology Netowrk Security
IT Innovation and Design
Mobile Solutions Development
Software Engineering Technician
Software Engineering Technology
Software Quality Assurance and Test Engineering
Business

Administrative Business Management
Bachelor of Business Administration (Honours) - Accounting, Audit and Information Technology
Bachelor of Business Administration (Honours) - International Business Management
Bookkeeping
Business
Business - Finance
Business - International Business
Business - Marketing
Business - Purchasing
Business Administration - Accounting
Business Administration - Financial Planning
Business Administration - Management
Business Administration - Marketing
Business Administration - Supply Chain and Operations Management
Business Development and Sales
Business Fundamentals
Career Development Practitioner
Financial Planning Services
Global Business Management
Health Office Administration
Human Resources
Human Resources Management
Insurance - Property and Casualty
Medical Office Practices
Municipal Law Clerk
Occupational Health and Safety
Occupational Health, Safety and Wellness
Office Administration - Executive
Office Administration - General
Office Administration - Legal
Project Management
Public Relations
Public Relations - Integrated Communications
Strategic Global Business Management
Strategic Marketing Communications
Supply Chain Management - Global
Sustainable Business Management
Community Services

Advanced Police Studies
Bachelor of Community and Criminal Justice (Honours)
Bachelor of Early Learning Program Development (Honours)
Child Development Practitioner (Apprenticeship)
Community and Social Service Management
Community Integration Through Co-operative Education
Early Childhood Education
Educational Support
Esthetics
Human Services Foundation
Mental Health and Substance Use
Police Foundations
Pre-Service Firefighter Education and Training
Protection, Security and Investigation
Recreation and Leisure Services
Social Service Worker
Creative Industries

Advertising and Marketing Communications
Animation
Broadcast - Radio
Broadcasting - Television and Independent Production
Design Foundations
Game - Design
Graphic Design
Interactive Media Management - Interaction Design
Interior Decorating
Journalism
Media Foundations
Visual Merchandising Arts
Engineering & Technology

Aviation - General Arts and Science
Bachelor of Applied Technology (Honours) - Architecture - Project and Facility Management
Bachelor of Interior Design (Honours)
Civil Engineering Technology
Civil Engineering Technology - Environmental
Computer Engineering Technology
Construction Engineering Technology - Architecture
Construction Management
Construction Project Management
Electrical Engineering Technician
Electrical Engineering Technology
Electro-Mechanical Maintenance
Electronics Engineering Technician
Electronics Engineering Technology-Telecommunications Systems
Embedded Systems Development
Energy Systems Engineering Technology - Electrical
Environmental Engineering Applications
Industrial Mechanic (Millwright) Apprenticeship
Manufacturing Engineering Technology - Welding and Robotics
Mechanical Engineering Technician - Automated Manufacturing
Mechanical Techniques - Industrial Millwright
Metal Fabricator (Apprenticeship)
Packaging Engineering Technician
Robotics and Industrial Automation
Structural Steel Management and Detailing
Technology Foundations
Welder (Apprenticeship)
Welding and Fabrication Technician
Welding Engineering Technology - Inspection
Welding Techniques
Woodworking Technician
Health & Life Sciences

Bachelor Environmental Public Health
Bachelor of Applied Health Information Science (Honours)
Bachelor of Environmental Public Health (Honours)
Biotechnology Technician
Cardiovascular Nursing
Enhanced Nursing Practice - Clinical and Critical Care
Enhanced Professional Practice - Gerontology and Chronic Illness
Fitness and Health Promotion
Hearing Instrument Specialist
Infusion Nursing
Nutrition and Food Service Management
Occupational Therapist Assistant & Physiotherapist Assistant
Paramedic
Personal Support Worker
Practical Nursing
Pre-Health Sciences Pathway to Advanced Diplomas and Degrees
Pre-Health Sciences Pathway to Certificates and Diplomas
Registered Nurse - Cardiac Care
Registered Nurse - Critical Care Nursing
Registered Nurse - Emergency Nursing
Registered Nurse - Perinatal Nursing
Registered Practical Nurse - Perioperative Nursing
Respiratory Therapy
Hospitality & Culinary Arts

Baking and Pastry Arts
Baking and Pastry Arts Management
Culinary Management
Culinary Skills - Chef Training
Event Management
Food and Beverage Management - Hotel and Restaurant Operations
Food Processing Technician
Food Safety and Quality Assurance - Food Processing
Global Hospitality Management
Hospitality and Tourism Management
Hospitality Operations - Food and Beverage
Operations Leadership in Food Manufacturing
Professional Cheese Making
Interdisciplinary Studies

General Arts and Science - Diploma Option
General Arts and Science: ELS
General Arts and Science - One Year
Public Service
Teaching English as a Second Language
Trades & Apprenticeship

Brick and Stone Mason (Apprenticeship)
Carpentry and Renovation Technician
Construction Techniques
Construction Techniques - Brick and Stone
Electrical Engineering Technician - Industrial
Electrical Techniques
Electrician - Construction and Maintenance (Apprenticeship)
General Carpenter (Apprenticeship)
Heating, Refrigeration and Air Conditioning Technician
Mechanical Technician - CNC
Mechanical Technician - General Machinist
Mechanical Techniques - Plumbing
Mechanical Techniques - Precision Machining and Tooling
Motive Power Fundamentals - Automotive Repair
Motive Power Technician - Automotive Service
Motive Power Technician - Heavy Duty Equipment
Motive Power Technician - Truck and Coach
Motive Power Techniques - Heavy Duty Equipment Repair
Motive Power Techniques - Motorcycle and Power Sport Vehicles Repair
Motive Power Techniques - Truck and Coach Repair
Motorcycle Technician (Apprenticeship)
Plumber (Apprenticeship)
Workforce Development, Continuing Education & Online Learning

Applied Electrical Motion and Control Management
Applied Energy Management
Applied Network Infrastructure and System Administration
Enterprise Content Management
Health Care Administration and Service Management
Information Technology Business Analysis - Operations
Process Quality Engineering
Quality Assurance - Manufacturing and Management
Registered Practical Nurse - Oncology Nursing
Renewable Energy Techniques
Web Design and Development