Your ONE Card begins with your ONE Card student photo

Before you can be fully registered and access your timetable, you must upload a student photo. Your ONE Card student photo completes your student record and confirms that you are a Conestoga College student.
After your ONE Card student photo has been uploaded and approved, this will be your ONE Card student photo going forward. You are not required to update or renew your photo.

Upload your ONE Card student photo
To receive your ONE Card, you must correctly complete these steps:
STEP 1: Take Your photo

After you have paid your fees, upload a photo of yourself that will be placed on your ONE Card as your photo identification. Please review the photo requirements below.  

The ONE Card office will review your photo to ensure it meets the necessary requirements before approving your photo and printing your ONE Card. You will receive a follow-up email if your photo does not meet the requirements.


The ONE Card office reserves the right to refuse photos that do not meet the requirements listed below. Photo submissions are manually reviewed and can take up to two business days to be approved from the date of submission.  

If you have any difficulty meeting any of these guidelines, please contact the ONE Card office.  

Your photo must meet the following requirements to be approved as your ONE Card photo:  

Be in JPEG format
Be a photo of you alone
A full head shot from the shoulders up, directly facing the camera. Feel free to smile!
Ensure that your entire head is visible in the photo
Be in colour, bright and clear
Your clothing must be visible in the photo

Your photo must have a neutral background (i.e. white wall)
Your photo must be recent within the past 6 months and reflect your current appearance

Failure to comply with all the above conditions will result in your photo not being accepted for your ONE Card identification. 

Unacceptable photo submissions: 

No family, friends, animals, etc.
Do not cover your face
Do not wear any hats, sunglasses, or items that obscure your face
Do not include props

No costumes
Not contain any text, cartoons, advertising or other messages
No filters or graphics
No profile or angle shots

If you cannot imagine the photo being used on your passport, choose a different photo.  

ONE Card photos require your full face to be clearly visible in your photo, as this is the college's official method of identification. However, in line with our commitment to equity, diversity and inclusion, we want to be able to accommodate community members. 
STEP 2: Check your Student Portal default address

Ensure your default address listed in the Student Portal is up to date. 

Students living outside of Canada can submit their photo with their international address listed. Once you are living at your permanent long-term Canadian address (not your quarantine address), update your Student Portal with your Canadian address as your default address. 
STEP 3: Upload your photo

Log in to the Student Portal.

Select the ONE Card Photo Upload tab.

Upload your photo (please follow all guidelines).

Confirm your default mailing address.

You will receive an email confirmation of your photo upload and another email to verify if your photo has been approved.

If you move after completing the photo upload process, please ensure you update your address in the Student Portal.

Pick up your ONE Card
New students who are fully registered (student photo uploaded and approved, fees paid and timetable complete) AND are eligible to receive a ONE Card, can pick up their physical ONE Card on campus. This includes students registered to the Brantford campus, who will receive a Laurier ONE Card.

Orientation Week

During Orientation Week, students can pick up their ONE Card at their designated campus. To pick up your ONE Card, you must show a government-issued ID, such as a passport or Canadian-issued driver's licence.

ONE Card offices

If you can't attend Orientation Week, visit a ONE Card office on campus to pick up your ONE Card. To pick up your ONE Card, you must show a government-issued ID, such as a passport or Canadian-issued driver's licence.
Brantford campus students
Students registered to the Brantford campus will receive a Laurier ONE Card to access Brantford campus services. Your ONE Card is available for pick up at the Brantford campus (274 Colborne Street) between 9 a.m. and 3 p.m., in the Student Service area. To pick up your ONE Card, you must show a government-issued ID, such as a passport or Canadian-issued driver's licence.
One Card formats
Your ONE Card is available in two formats:
1. Physical ONE Card: This format is provided to all full-time registered students. It can be used as college photo ID, to make purchases using Condor Cash, and to access the GRT transportation system.
2. Digital ONE Card: This format can only be used as your college photo ID. (e.g. show when writing exams or to receive a student discount at stores). Note: you can not use this format to make purchases or to access the GRT.
To view your card, log in to the ONE Card Portal and select 'Display Card' from the main menu.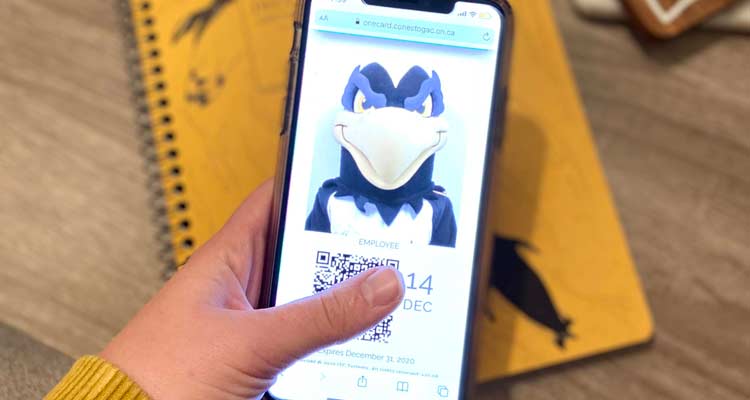 Replace your card

If your card is lost or stolen suspend it IMMEDIATELY.

How to suspend your ONE Card
Log into your ONE Card portal account. Select the gear icon in the top right to review your settings and use the Suspend Card button to turn off the card activation.
Prior to suspending your card, you are responsible for ALL unauthorized transactions resulting from the theft or loss of your card.
You are responsible for any damage to your ONE Card. Hole-punching or bending your card may result in card malfunction.
Process to request a new card
We are happy to provide you with a replacement card.
The cost to replace your ONE Card is $20. Due to the COVID-19 pandemic, the ONE Card Office is waiving the replacement card fee.

Replacements will be mailed to your address and may take 5-7 business days to be received.
Please report your missing card by completing the ONE Card Replacement Request Form. You must use your Conestoga College email address to access the form. Review the form carefully and follow all instructions. You cannot complete the form more than once. Please note: If you find your card, we cannot reactivate your card once you complete this request form.
Once you submit the form, the ONE Card Office will send you a confirmation email with next steps.
The ONE Card office cannot guarantee the timeline of when you will receive your replacement card. The ONE Card Office is not responsible for any impact that may be experienced as a result of delays with Canada Post mail deliveries or delays as a result of incorrect addresses.

All services and condor cash associated with your previous ONE Card will be transferred to your new ONE card.
Employees
The Conestoga ONE Card is the official identification card for all employees. Employees have access to all services offered through the ONE Card Program including using the card for purchasing at off-campus locations or to purchase a membership to the Rec Centre.

To get your ONE Card, please follow the steps outlined above. Once your photo upload is received, the ONE Card Office will provide further instructions regarding mailing your ONE Card.